"What really matters for success, character, happiness and lifelong achievements is a definite set of emotional skills – your EQ — not just purely cognitive abilities that are measured by conventional IQ tests."
– Daniel Goleman
As a leadership coach, I am often hired to help executives increase their emotional intelligence (EQ).  Feelings and emotions are an inherent part of workplace activities at all levels and leadership success is not possible without strong emotional intelligence skills.
The Genos EQ Model
There are many models and assessments on the market that measure emotional intelligence.  One of my favorites to use in leadership development is the model developed by Genos International, which is unique because it identifies the seven fundamental skills you must have to be emotionally intelligent.  The skills define how effectively you perceive, understand, reason with and manage your own and others' feelings.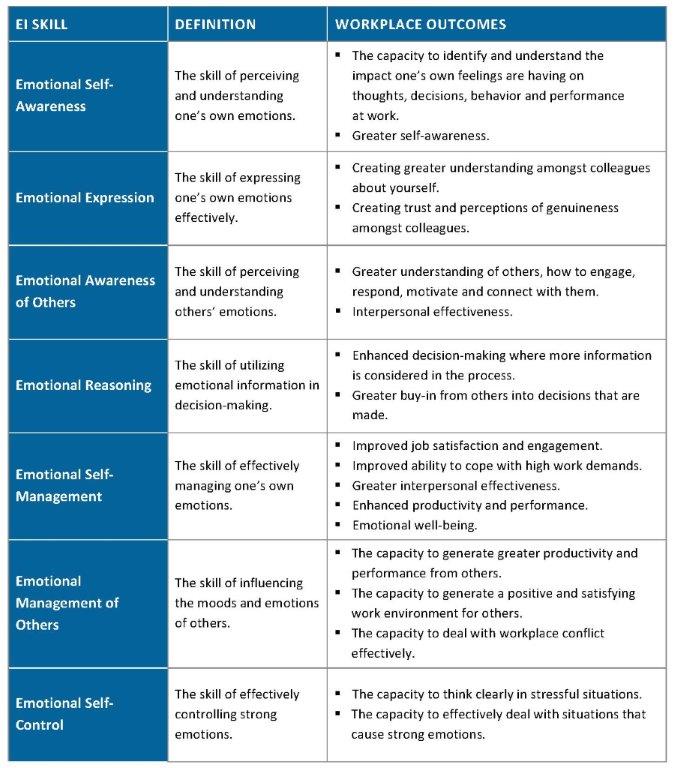 The first skill, Emotional Self-Awareness is the ability to perceive one's own feelings.  As simple as that sounds, many people are not aware of their feelings.
Emotional Self-Management and Emotional Self-Control are about being able to manage your emotions, particularly when they become intense.  Many of us have worked for or around people who are unable to manage their emotions and it is very disruptive and upsetting.
My favorite skills measured by this model are Emotional Expression – being able to effectively express your emotions – and Emotional Reasoning – the ability to use emotional information when making decisions.  These two emotional intelligence skills are not recognized in many other models and yet are an absolute must-have for all leaders.
Emotional Intelligence In Action
Here is a good example of how important emotional intelligence skills tare in leadership, to be able to spot potential issues that might affect working relationships and the state of mind of direct reports.
I was debriefing an assessment tool with a new employee – a project manager at a startup – with her boss, the COO.  When we began to discuss their expectations of the new role, I noticed (Emotional Awareness of Others) that the new employee became very flushed and non-verbally uncomfortable.
So, I acknowledged her concerns and suggested strategies to deal with her discomfort (Emotional Management of Others). In fact, I underscored the issue several times to ensure her concerns had been addressed before we ended the meeting.
After the meeting, I followed up with the COO to see if he was aware of the emotional dynamics that had occurred during the meeting.  It turned out that he had not noticed the employee's discomfort, nor had he understood why I had reinforced the point about the new employee's role several times. So, we reviewed ways for him to recognize her emotions and manage them effectively.
Taking Your Emotional Intelligence To The Next Level
All leaders should possess the seven emotional intelligence skills highlighted in the Genos EQ model. Once these are developed, I usually help clients work on even more advanced skills.
The Hay Group's Emotional and Social Competency Inventory (ESCI) model – based on Daniel Goleman's work – takes EQ to a higher and organizationally minded level. It takes into consideration more sophisticated emotional intelligence skills like Conflict Management, Empathy, Influence, Inspirational Leadership, Teamwork  and Organizational Awareness. 
Both ESCI and the Genos EQ models provide a 360° version, which is important because it helps you obtain feedback from others on your level of emotional intelligence.  Both tools can be used individual leadership coaching and team development.
On To You
Are you interested in gaining greater understanding of your emotional intelligence skills, developing them further or learning how to apply them more effectively in your leadership role?