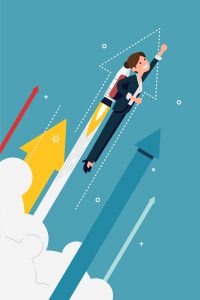 When a company experiences sudden fast growth, its leadership is tasked with managing the new reality; something they might not have the talent and skill to deliver.
A company that owns and manages senior living facilities has been growing at an astonishing rate, going from 15 to 30 properties in the last two years. The situation is requiring everyone in the company to perform at a much higher level than was expected when they joined the company.
Sudden Growth Puts Leadership On The Spot
While the new opportunities are exciting, they are creating an extremely stressful environment for all. That's especially true for the company leaders, whose roles are changing to be able to manage the fast growth.
Two of these leaders recently engaged in a series of Executive Coaching sessions with me to focus on their leadership development.  Both are executives who were originally hired as functional experts, in Human Resources and Operations. However, the sudden growth has called upon them to shift their orientation from getting the work done to hiring and leading regional managers and building functional teams. The new role has been challenging for them.
Coaching Gives Roadmap To Manage The Growth
Executive Coaching has given these two leaders the space to discuss and create views of themselves at the higher management level where they are now. This was done through a 3-step process:
First, they visualized what it would be like to be leading their teams confidently and feel comfortable in that position;
Then, they defined how they wanted to manage their team and how they should interact and collaborate with their peers, direct reports, and company stakeholders;
Finally, they established which leadership skills they needed to work on to become the type of leader they had envisioned.
Here is a sample of the leadership plan one of the leaders created:
Leadership Vision

■       Provide an environment where people succeed

■       Provide strategic partnership that is fair and consistent across the organization

■       Develop and lead an innovative a team that meets organizational needs as we grow and change

Development Needs To Meet The Vision

■       Level headed, no matter what presents

■       Hold an organizational understanding of issues and strategy

■       Move beyond subject matter expert

■       Move approach from Management to Leadership

■       Embrace technology solutions that meet today and future needs

Requirements for Team Development

■       High performing and engaged team

■       Ensure understanding and delivery of stakeholder needs

■       Learn from mistakes to improve the organization's effectiveness

■       Develop staff within an environment that welcomes and encourages innovative solutions
As a result of the coaching, the leaders are now engaged, energized and able to embrace new approaches to support their ever-growing teams.  Days are still intense and can be long, but as one said, "I see light now, where there was none before!"
Are you  working to manage fast growth or changing realities as a leader of your company? Let's talk.