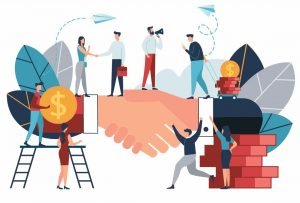 The cornerstone of success in the business world comes down to one thing: the ability to build honest and lasting relationships with clients, co-workers, and partners.
Leaders who can master this skill can build high-performance teams and drive constant growth for their companies.
There are three powerful relationship management strategies you can apply to all business relationships – within your company and with clients – that are proven to be effective because they are based on core principles of emotional intelligence. The strategies are simple – you might even regard them as "common sense" – yet it's very easy to forget to follow them on a daily basis.
RELATIONSHIP MANAGEMENT  STRATEGY #1:
Be genuinely interested in other people's worlds.
HOW TO DO THAT:
Listen more than you talk
Listen with the goal of finding ways to help, not just waiting for your turn to speak
Be curious and ask open-ended questions
Put yourself in their shoes and empathize with their challenges
IMPACT:
People feel heard
Internally: Increased collaboration with colleagues and employees, creating a more productive and conflict-free workplace
With Clients: Increased sales and referrals
RELATIONSHIP MANAGEMENT  STRATEGY #2:
Do what you say by when you say you will
HOW TO DO THAT:
Be open to solving others' challenges

Give a clear explanation of what you can do to help

Do it on time
IMPACT:
You will be viewed as strong and dependable
Internally: You will become a "go-to" person within your team
With Clients: You will be trusted to deliver, and more work will come your way
RELATIONSHIP MANAGEMENT  STRATEGY #3:
Respect other people's time
HOW TO DO THAT:
Use small talk lightly and get to the point quickly without wasting people's time

Avoid calling without an appointment; everyone is busy and some people are on deadlines with tight schedules and find interruptions annoying

Give options to call or talk via email or text
IMPACT:
You will have people's undivided attention
Internally: You will be known for being on time and having effective time management skills
With Clients: They will feel respected and make time for your requests
Great leaders use these relationship management strategies effortlessly throughout their days because they know they can be the difference between success and failure.
Next Steps
How about you? Are you using these strategies to manage all your business relationships? Think about a challenging relationship: how have you managed yourself in its context? What can you improve using the guidelines above?
Is relationship management one area where you are looking to improve for yourself as a leader and/or for your team? Let's talk.