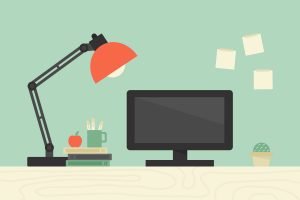 Awkward. Disorienting. Chaotic. You have been going to the office for years and now find yourself juggling your home life and leadership load all at once, in one space.  Leading from home is not as simple as putting yourself in a new location and running operations as you'd do in your normal work environment. The fact is, being a leader at the top just became even lonelier. Yet, your team and your company need you to step up and lead more than ever.
Here are some ideas on how to handle your leadership responsibilities from the home office and maintain high levels of team collaboration and productivity.
Your Space And Schedule
First things first: Create the conditions that will allow you to focus on leading your team. If you can, set up a separate space for your office. Make it comfortable and away from other distractions.
Now that you have had a week at home fix what does not work for you. If you are used to using multiple screens, and now you have one, consider getting another one from the office or adding home monitors to reproduce your regular office setup.
Go to "your office" like you would if you were leaving home. It'll help you get into the right mindset.
Get dressed for work. It might be tempting to work in your PJs or sweats… don't! You'll feel more productive and ready for unplanned video calls!
Be present for the job: Work hours are work hours. You can tend to home projects using the extra time you save by not having to commute.
Connecting with the Team
Check on your co-workers and direct reports regularly. For some, it might be harder to stay focused, engaged, and motivated while working from home.  So, consider increasing the frequency of your team meetings to get a feel for how they are doing.
The managing partner of a firm said they were set up so that the leaders would meet virtually once a day, and then each leader would have a daily meeting with their teams to ensure everyone felt connected, included, and had a handle on workflow.
Keep the natural office interactions alive. Maintain the chats you'd normally have with colleagues and direct reports at the office. Phone, text, or email are fine, yet I encourage you to set up quick video conversations or virtual lunches whenever possible. Video creates a stronger connection, and the non-verbal cues can help you understand what's going on with the person. It's also a way to keep the introverted engaged and give the extroverted their much-needed social touchpoints.
One team leader said he misses being able to pop into other people's offices for a quick share or to ask a question. He is making an effort to keep those connections going in his new environment.
 Leading with Emotional Awareness
These are crazy times! Leading from home may call for extra compassion and empathy for yourself and others. Be sensitive to people's state of mind and what they might be feeling. They might be operating under more stress and may act out of the ordinary without even realizing it. If appropriate, address what might be bothering them by having a caring conversation.
Keep your sense of humor and be extra kind to everyone, yourself included!
Using Your Leadership Assessments for Guidance
This is a great time to take another look at the results of any leadership tools you have done by yourself or with your teams in the past. Consider scheduling a team meeting to review everyone's assessments within the new work-from-home context. You might want to consult with the person who did the assessment for the team and have them lead a virtual session on how to use the insights in this new arrangement.
I have been reviewing Kolbe patterns with clients as they consider how best to work in this time of stress and what everyone needs to be more productive while working from home.
For example, one leader realized one of her team members is hugely risk resistant and needs tons of information as she works. They are used to working closely together in the office, so the leader will need to make an extra effort to watch and support her to ensure she doesn't get stuck.
Many business owners thrive in chaos, yet that might not be the same for their employees. Be mindful of what every person on your team needs to do his/her best work in this situation.
If you don't have assessments to rely upon, ask your team members how the current environment is working for them and how you can support them.
How Can I Help Your Leadership from Home Challenges?
FREE 30-MIN COACHING SESSION
A dedicated time to discuss your specific challenges and what kind of support would be most helpful to you during this time. Email me at coach@susanspritzmyers.com to schedule your session.
KOLBE ASSESSMENT
A powerful tool, Kolbe can show you how you and your team can thrive using every person's innate problem-solving patterns, even when working from home. We can do an individual review or include your team with a Zoom session.  Contact me if you are interested.
In an online post, Marianne Williamson said, "We must socially isolate, not emotionally separate." Most importantly, we are called to make the most of our days in our new working and leading from home reality.  It's an opportunity to learn much about ourselves and those around us. Those who will seize it will become much better leaders and teams.