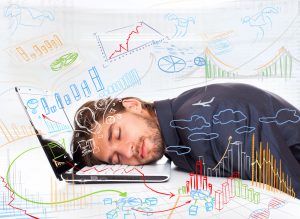 One of my Executive Coaching clients, Scott started coaching because he couldn't understand why he was experiencing job exhaustion in a leadership role he really liked.
The coaching work focused on helping him build a better understanding of how he naturally solves problems. This was a powerful way to shed light on what was causing his exhaustion at work.
Understanding the Cause of Job Exhaustion
To figure out the cause of Scott's exhaustion, we used two different but related Kolbe assessments: the Kolbe A™ Index and Kolbe B™ Index.
The Kolbe A™ Index reveals a person's instinctive way of tackling challenges and solving problems based on four methods of operation. This Index helps us understand which types of action come natural to us – representing a source of energy and excitement – and which ones are, on the contrary, draining and disengaging. On the other hand, The Kolbe B™ Index reveals how individuals perceive their jobs should be performed.
Comparing the results of the indexes shows whether a person is trying to work against his natural strengths and abilities, creating a situation that might deplete energy and enthusiasm and – ultimately – result in lower productivity.
For Scott, the Kolbe A™ Index revealed that his natural leadership style is to collect information and then use it to quickly create innovative approaches, thriving on in-depth challenges. However, his Kolbe B™ Index told us he was trying to do his job very differently: working at a much slower pace, avoiding new ideas, and attempting to create systematized solutions. This was the reason for the job exhaustion he was experiencing.
A Radical Improvement
The insights helped Scott achieve greater self-awareness about what makes him thrive and also helped his bosses understand how to get the best out of him. They all worked together to figure out how to present Scott with more challenges to make his leadership role a better fit for his innate way of working and explored strategies to better serve him and the organization.
As a result of the changes, Scott's leadership performance improved, as did his satisfaction and energy levels.
Takeaway
Job exhaustion might be a sign that you are trying to work in a way that is unnatural for you. Scott was not in the wrong job. He just needed to structure his approach to the work, so that he could leverage his instinctive talents and be more productive while maintaining his energy levels high.
Are you experiencing job exhaustion in a leadership role you otherwise like? Would you like to discover how you work best and how you can make your job a better fit for you?
Contact me to discuss how Executive Coaching might help you.
Kolbe A™ Index and Kolbe B™ Index are the trademarks of Kathy Kolbe and Kolbe Corp. All rights reserved.