When working with clients, quickly understanding how they make decisions and what they need to take action can be a real asset. If we operate in a manner that is different from how they are naturally predisposed to approach problems and situations, we can cause pushback and frustration. Even more, they might find it overwhelming to collaborate with us.
Jamie is a very successful real estate broker who has leveraged the awareness gained from his Kolbe Assessment scores to manage himself better both when working alone and with clients.
Watch the video or read on to discover how he uses the Kolbe knowledge as part of his success.
KOLBE AS A TOOL TO MANAGE ONE'S ENERGY AND TASKS
The Kolbe A™ Index indicates our natural abilities, which are different for every person. Working in line with those strengths energizes us, while working against them depletes us.
JAMIE'S KOLBE A™ INDEX: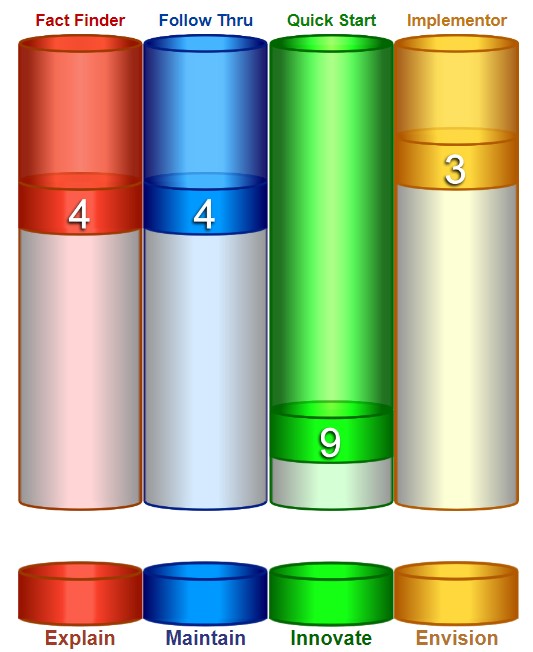 The 4 score in Fact Finder means Jamie doesn't need a lot of details and information to jump into action and problem-solve, while the 4 in Follow Thru shows that he doesn't need much planning. He can alternate between structured and unstructured approaches.
Through Kolbe Jamie has learned that when he has to perform tasks that require following methodical processes or gathering and organizing lots of data, he is better off doing them in the morning. This is because those tasks, being more unnatural for him, require more of his energy.                        
ADAPTING TO CLIENTS' DECISION-MAKING PROCESS
When it comes to his clients, Jamie doesn't make them take the Kolbe Assessment. However, he is great at reading people, and using the concepts behind Kolbe allows him to quickly assess how they are going to approach the home-buying process. This way he is able to adapt to their needs instead of forcing them to adapt to his style.
Being a 9 in Quick Start, his tendency is to spring into action. He is prone to improvising. He knows within less than a minute whether a house is right for his clients or not. When dealing with people similar to him, he knows he can say, "This isn't your house," and they will agree and move on right away.
However, he is aware that other clients are not going to be comfortable with his naturally fast pace. He must rein in his Quick Start instincts and be more patient, allowing them to get to the same conclusion their way. That might include spending 45 minutes walking through a house when the clients themselves know it isn't the right fit but still wants to see it.
Other clients go through homes with spreadsheets, writing down every detail. That's opposite to Jamie's innate nature. Instead of getting frustrated, he knows he needs to coach himself to provide them with all the information they need to make the decision. He forces himself to look up all that the clients might want to know, even things that wouldn't be relevant in other situations.
TAKEAWAYS
Thanks to Kolbe, Jamie has become more understanding of his clients' demands. He knows there is no right or wrong approach; there are just different ways of going about making decisions. He is better equipped to deal with all sorts of clients. He knows how to talk to them, what they need from him, and what data points they want to see.
This has made his job much easier because he can better accommodate their decision-making process. Ultimately, his responsibility is to make them see what's right for them and what isn't. Now he can do it in the best way for them while managing his energy more efficiently and continuing to leverage his innate abilities.
Are there tasks that leave you drained and are a struggle to complete?
 Do you have clients you find challenging and exhausting to work with because they are so different from you?
Through a Kolbe Assessment and tailored coaching, I can help you overcome these obstacles and make your job feel more effortless, while increasing your results.
–
Kolbe A™ Index and Action Modes® are the trademarks of Kathy Kolbe and Kolbe Corp. All rights reserved. The description in this blog is my interpretation of the Kolbe System™. Here is an overview to gain an understanding of Kolbe's approach and wisdom.