When you struggle to collaborate with your colleagues or they don't deliver the work the way you'd expect them to, it's easy to make assumptions about their behavior or abilities. This can escalate tension and frustration.
Through a Kolbe Assessment, you can understand and appreciate the way each person operates, to then resolve collaboration problems and optimize how you work with each other. Here's an example.
Lee owns a consulting business and Whitney is his employee. Kolbe has brought them tremendous awareness of the patterns they engage in when working together.
Watch the video or read on to learn how this has made their work more productive, helping them resolve their collaboration issues without damaging the relationship.
TWO DIFFERENT WAYS OF APPROACHING WORK
First, let's look at how both are predisposed to work. From highest to lowest number, the scores of the Kolbe A™ Index reflect the steps each person instinctively takes to initiate action.
LEE'S KOLBE A™ INDEX:        WHITNEY'S KOLBE A™ INDEX: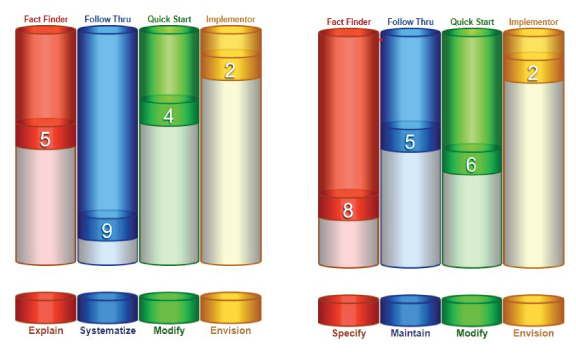 Lee starts with his Follow Thru instincts, which are all about process and structure. His drive is to organize by seeing all the pieces of the project and developing a plan. He then looks at the data, though his 5 in Fact Finder means he tends to only look for the relevant information. If he digs too much into the details, he gets worn out. His 4 in Quick Start makes him pretty risk averse.
He naturally prefers to get a sense of what it's going to take to make something happen before he jumps in.
Whitney, on the other hand, always starts by looking at the facts (that's her 8 in Fact Finder). Asking for and sharing a lot of detail helps her feel grounded in the work she's doing. Next, she uses her Quick Start to experiment and try things out on a small scale. She's more comfortable with risk than Lee and likes to push the boundaries a bit more. With a 5 in Follow Thru, she uses process only to make sure that what's already working continues to work but doesn't do the kind of systems thinking that Lee does.
KOLBE AS A TOOL TO LEVERGE EACH OTHER'S STRENGTHS
This information has helped them understand how to lean on each other's natural abilities; their superpowers, as they call them. They know what parts of the projects to hand off to one another to be more efficient and produce the best work possible.
For example, Lee is always in charge of designing plans and timelines, as he has an innate sense for how long things will take and how the pieces will fit together. His high Follow Thru also makes it easy for him to spot what's missing, so he takes care of the final proofreading and editing to make sure everything's in place – he almost can't help himself with that!
Since those are not Whitney's strengths, such tasks would take her more time and effort. Her energy is better spent gathering and analyzing the data.
Other clients go through homes with spreadsheets, writing down every detail. That's opposite to Jamie's innate nature. Instead of getting frustrated, he knows he needs to coach himself to provide them with all the information they need to make the decision. He forces himself to look up all that the clients might want to know, even things that wouldn't be relevant in other situations.
RESOLVING COLLABORATION PROBLEMS WITHOUT CONFLICT
Kolbe has also helped Lee and Whitney see how their respective approaches might create collaboration problems, and how to have productive conversations when that happens.
Whitney's high Fact Finder makes her instinctively detail-oriented. She might say the same thing three times in different ways because to her, each time adds new information. However, it may all sound the same to Lee, who will get tired of the conversation quickly. Thanks to the Kolbe knowledge, he's now comfortable saying, "Ok I got it" or "Just give me the bottom line" knowing that it won't hurt Whitney's feelings. She understands that it doesn't mean he doesn't value what she's saying. It's just that all those specifics can be too much for him.
There have also been occasions when leaning too much on each other's abilities has caused a breakdown in expectations.
Whitney is aware that Lee is much stronger at bringing things to completion and tidying things up. She knows he will review and edit all the proposals, client reports, and presentations she brings him, so at times she has turned in work that Lee sees as incomplete when he instead expected her to deliver a finished product. Normally, this is the kind of situation that can create work conflict. It would be easy for Lee to assume Whitney doesn't care enough about the work or is not doing a good job.
Kolbe has allowed them to have an honest discussion about the issue, putting personality-based differences aside to look at how their innate patterns might be at play and get clear on roles, responsibilities, and expectations.
ON TO YOU
Do you have collaboration problems but can't figure out why?
Are you looking for ways you can work more efficiently together?
Reach out if you want to understand the patterns at play and learn to leverage each other's natural strengths.
–
Kolbe A™ Index and Action Modes® are the trademarks of Kathy Kolbe and Kolbe Corp. All rights reserved. The description in this blog is my interpretation of the Kolbe System™. Here is an overview to gain an understanding of Kolbe's approach and wisdom.