Develop Self-Awareness to Reveal and Embrace Your Best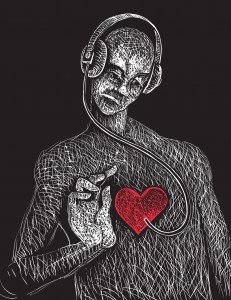 How often does our work truly connect with who we are and allow our true self and passions to emerge?
Let's face it. Most of us who are lucky to have a solid and stable job get comfortable in the world we create. The bills get paid.  We are able to create a lifestyle we enjoy and don't want to abandon, so we stay in a career that can sustain that life.
Yet, somewhere along the road, we lose sight of why we chose the work and the passion for it (if we ever truly had it.) In other words, we go through life without self-awareness.
My Moment of Self-Awareness
I noticed I was in such a place in the mid-90s.  I had a good job in a good company, making a very good salary.  However, the work had become stale to me, thus I had become stale.  I did not know what to do about it, but I was clear that I was bored and really did not know where to turn.  My self-awareness was on mute.  I did not want to hear the message because it would upset a life that I thought worked for me.
Then I had an amazing experience that awakened my self-awareness and demanded I listen; it was so loud and exciting.
I had flown down to Dallas for my job, to give a presentation to a group of banking executives about a marketing opportunity.  I was nervous to present in front of a group of professionals.  I was used to selling in the quiet comfort of a conference room with one or two people.  My people skills were good; I could have anyone feeling comfortable and engaged very quickly.  However, presenting to a large group of professionals, using PowerPoint slides and a microphone in a darkened room was way out of my comfort zone.  Plus, I was not excited about the material I was to deliver; I was doing "the job" that had been asked of me.
Then, the most unexpected thing happened. Once I started the presentation, I came alive in ways I had never experienced.  I gave the prescribed talk, interacting with the banking executives with poise and grace I did not know I possessed.  I felt comfortable in front of the group and couldn't get over the energy I created for the topic and the lively interactions I was having with the bankers.
As I sat on the plane on my way back to Chicago, I was finally self-aware and there was no avoiding it.  "Boy, I had no idea how much I love speaking.  I have not felt this alive in years or maybe ever!"  I could not get over the rush I was experiencing and really how easy and fun it had been for me to work the room and connect with the audience. My heart was racing; it was the most amazing feeling.  I knew I was having one of those "aha" moments.
If I got such a "high" presenting material in which I had no interest, what would it feel like to talk about subjects I really enjoyed?  The experience had given me a jolt and triggered my self-awareness, and I was finally ready to embrace what it was telling me. I now had an exciting idea to explore new possibilities that I did not know existed within me.  I was so thrilled in that moment because I knew I would not be stale forever. New doors had opened.
That first speaking experience was over 20 years ago.  The thoughts and feelings I had on that airplane are just as vivid and clear to me today.  Over the course of the next few years, I made a career transition, becoming an executive coach and team facilitator.  Today, I have the opportunity to speak often to groups on subjects that are my passion.  I am so happy I got the message and really listened on that flight from Dallas to Chicago!
What About You?
Do you feel that you are in a rut, that you are going through the motions and enjoying a comfortable life yet something is missing?
Do you have a "self-awareness moment" story similar to mine?
Feel free to share!