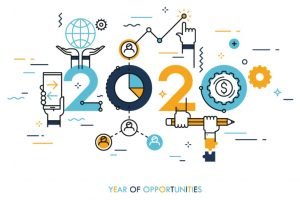 Happy New Year!
2020 is here, and I invite you to relieve yourself of the pressure of setting New Year's resolutions. Most people abandon them before January is over, anyway. This doesn't mean you shouldn't take some time to be intentional about what you want to create for yourself over the next twelve months. It's about reflecting on what was good and not so good about last year, what you learned or can learn from it, and then use it as a springboard to craft some intentions for 2020. This is lighter than committing to resolutions, and when done thoughtfully, it is something that can actually stay with you throughout the year.
Here are some questions to guide your reflections. You can answer them from the perspective of your professional or personal life, or both. It is your choice.
What were the best things you did last year?
What disappointed you about your 2019?
What did you learn that you want to remember?
How do you intend to feel about yourself this year or (if it fits better) how do you intend to lead?
What are the two or three most important things you want to accomplish in 2020?
How will you keep yourself accountable to stay focused on those things?
These are simple but powerful questions that can really propel you forward. Having clear intentions is key to creating success.
You can do this exercise by yourself, with your team, or even with your family.  Spend some time with the questions, and be sure to share your reflections with at least one other person. It can help make ideas brighter in your head and make your intentions more real.
You might even want to consider hiring a coach to support you in what you want to accomplish and provide a safe space for you to unpack thoughts, situations, challenges, and opportunities in the context of your intentions.
My wish for you is that you may have a wonderfully fulfilling year!
I will continue to provide you with ideas to ponder and expand your view. If there are particular topics around leadership, team development, and how to grow your impact that you'd like me to cover in my blog and my newsletter, let me know!